The Club: Bar & Quick Lunch
The place to socialise and be entertained
Our refined lounge bar, "The Club", awaits you for light lunches, sumptuous dinners and much more besides.
Here, you can fill up on natural extracts, selected herbal teas or mouthwatering aperitifs as you relax in our super-soft bathrobe! Poolside service available.
You can look forward to plenty of excellent live music – perfect for listening to or, better still, dancing to.
We lay on tastings that showcase the wines made by the finest local wineries, allowing you to savour the prestigious wine varietals grown in the Colli Euganei (Euganean Hills) DOC appellation.
Every day, we set aside time for what we call "the perfect break", during which we serve an assortment of herbal teas accompanied by a selection on highest-quality biscuits.
After dinner, and even at other times, we invite you discover "The Club Selection", featuring an array of wines, beers and other drinks along with a selection of finest grappas, spirits and rums, served together with such taste sensations as dark chocolate and strawberries.
The Club bar – opening times: 10.00am to midnight
The Club bar – lunch service: 12.15pm to 2.00pm
The Club bar – dinner service: 7.15 to 9.00pm
The Club & Terrazza Bar
You can access the snack & smart lunch price list direct from your smartphone using the app.
The app has been designed to make your stay run even more smoothly. Services on offer include the possibility to browse the wide variety of dishes and drinks on the bar menu.
BROWSE THE BAR MENU
The Terrace Club
Bathed in the light of the stars and the twinkling candles, during the summer months The Club Music&Dance moves outdoors, into our grounds. The Terrace Club is perfect if you are looking for a little more peace and tranquillity, as you sip on your preferred tipple against the backdrop of the evocative Abano Terme sunsets.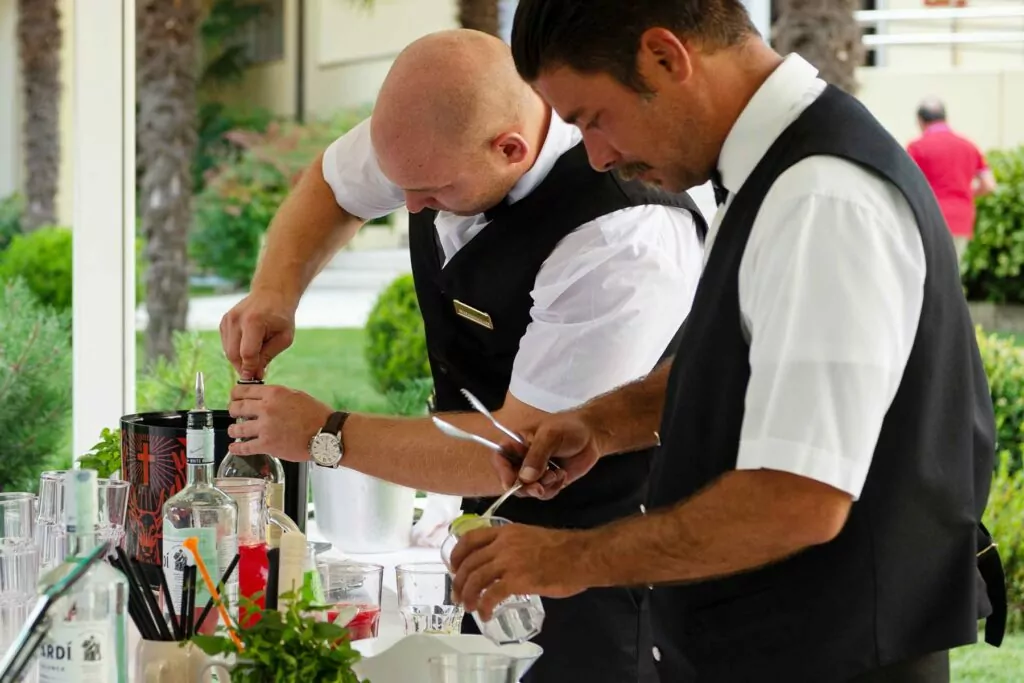 Wellness Bar
Pampered not only in the evening but also poolside.
During the day, the staff of the Wellness Bar will be delighted to visit you in the quiet surroundings of the thermal swimming pools to recommend a selection of herbal teas, infusions and fresh-fruit smoothies, allowing you to focus entirely on your relaxation and wellbeing.
And to help you get the most benefit form the energy of the spa waters, you can enjoy a light lunch in the lunch room of our "Club Bar", even in your bathrobe!